B Corps (B Corporations) are mission-driven businesses operating as a force for good. They do business in ways that are not only good for their shareholders, but good for their employees, customers, communities, suppliers and the environment. 
Danone is proud to be on a B Corp certification journey for all our businesses. As a B Corp, we are part of a growing global community set up to balance purpose and profit, helping to create a better world while thriving as businesses.
Our ambition is to be fully certified across the company globally by 2025.
B Corp strengthens and complements Danone's 'One Planet One Health' vision, highlighting our belief that the health of people and planet are interconnected. It is also an expression of our long-time commitment to sustainable business and to Danone's dual project of economic success and social progress. Find out more about Danone's global B Corp journey.

A force for good in Ireland and the UK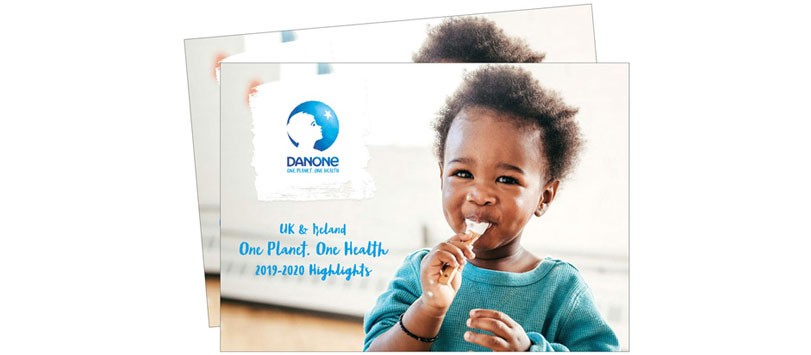 At Danone, we are on a journey to challenge ourselves and collaborate with others to go further for people and planet. Read our One Planet. One Health 2019-2020 Highlights to find out how we are helping to improve health, protect our planet and support our communities across Ireland and the UK.
B Corp certification and recertification are natural steps for us as responsible businesses – signalling our ongoing commitment to doing business in the best possible way. 
B Corp certification doesn't just evaluate a product or service; it assesses the overall positive impact of the company that stands behind it. And increasingly that's what people care most about. Across the UK and Ireland, we are proud to have secured B Corp accreditation at a business level for Danone Waters and Essential Dairy and Plant-based in the UK and Ireland alongside our brands Alpro and Volvic.
In recent B Corp assessments, our UK Essential Dairy and Plant-based business and our UK and Ireland Waters business scored highest in the workers section for our employment policies and practices. As part of this, Danone offers all staff across the UK and Ireland unlimited volunteering time to give back to the community, through 'remote volunteering' launched during the Covid-19 crisis. We helped to get critical support to people during the pandemic – including providing over £1.6m in financial and product donations and getting thousands of nutritious meals to families in need. 
DANONE ESSENTIAL DAIRY AND PLANT-BASED BUSINESS

In 2019, Danone's business in Ireland was first FMCG company to be certified, and the second company in Ireland overall. We joined our sister businesses in the UK and Alpro on the B Corp journey.
Actions that contributed to achieving certification
Part of the process is to provide evidence of our socially and environmentally responsible practices, such as our energy sources, waste and water use, worker compensation, diversity and corporate transparency. Our business practices include:
Committing to making all of our product packaging recyclable, reusable or compostable by 2025
Offering all employees unlimited volunteering time to give back to the community, through 'remote volunteering' launched during the Covid-19 crisis.
Running a programme giving access to shares in the company to all employees
Partnering with the only other B CorpTM company in Ireland to date, UrbanVolt, to reduce the environmental impact of our office space in Dublin. 
DANONE WATERS UK AND IRELAND

B Corp certification for Danone Waters UK and Ireland is underpinned by our mission to bring healthy hydration and safe drinking water to people throughout the world, while preserving natural resources and improving lives. Volvic has also achieved B Corp certification. 
Actions that contributed to achieving certifcation:
Our WeActForWater programme – a series of commitments and investments focused on responsible packaging, climate neutrality, community support and healthy hydration
evian and Volvic becoming certified as carbon neutral by the Carbon Trust in 2020, by achieving significant carbon reductions in production, packaging and distribution
Our positive impact worldwide
A total of 28 Danone entities have now earned B Corp™ Certification.
As a result, over 45% of Danone's global sales are now covered by B Corp™ certification, marking significant progress towards Danone's ambition to become one of the first B Corp™ certified multinationals.